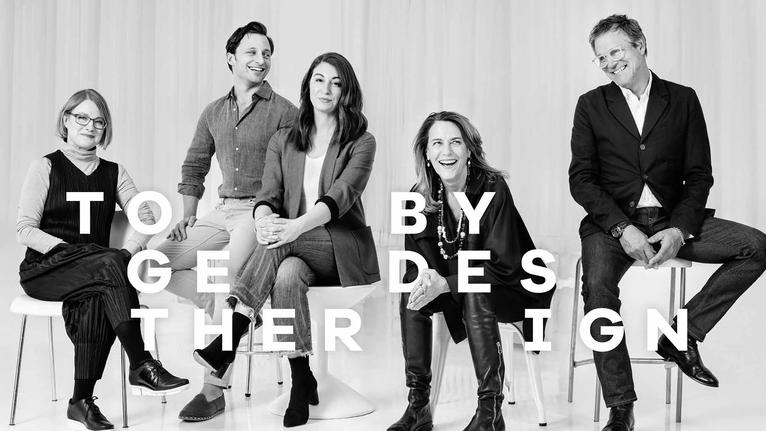 Together by Design
At Tarkett, we bring together great minds in design to create the flooring that inspires great spaces. From our in-house design team to our broad range of collaborators, we work together to answer the questions, "How can our products contribute to the happiness and well being of people? How can flooring foster more inclusive communities? How can we help create spaces that are more conscious of the needs of individuals and the planet?
In designing products to answer these questions, we've drawn inspiration from an array of experiences as different as each of us. And yet, our designs share a common goal— to create flooring that supports every person's relationship to themselves, to other people, and to the physical space around them.
Therefore, this year at NeoCon, we're excited to showcase a number of new innovative designs and flooring solutions that give you a collaborative experience. Because design, like so many things, is better together. 
Best of NeoCon Gold, Broadloom: Tatami System
COMING SOON
Broadloom reimagined. Tatami System is a revolutionary new flooring that supports the constantly fluid spaces of the modern workplace. Inspired by traditional Japanese tatami mats and the various needs within open, collaborative environments, Tatami System allows people to reconfigure their spaces while softening acoustics, improving overall comfort and inviting the coziness of home.
Winner of Interior design Magazine HiP Award, Hospitality: iD Mixonomi
COMING SOON
Inspired by the classic hexagon, iD Mixonomi™ LVT includes seven graphic shapes and three mini-forms that combine to create traditional patterns and bold layouts. With a diverse palette inspired by global travel, iD Mixonomi™ embodies a creative freedom where shapes and colors can be mixed together through thematic harmonies.
Drop Cloth by Float Studios
COMING SOON
Designed by Brad Sherman and Nina Etnier of Float Studio, Drop Cloth is a new addition to our customizable, digitally printed line of LVT, Collections Infinies™. Featuring an abstract, monolithic pattern with unexpected pops of color, Drop Cloth creates a layering similar to a terrazzo floor, without feeling faux.
LinoFloor & LinoWall
COMING SOON
Natural, versatile and sustainable, Lino and LinoWall blend pattern and color to create stylish, innovative wall and flooring treatments. This nature-inspired collection design possibilities, connecting color and texture on every plane of the design. Manufactured with almost 100% renewable energy and certified Cradle to Cradle® Silver, this iconic material supports both human and planet health.
Composition Series by Suzanne Tick
COMING SOON
Using modern extrusion techniques and spinning equipment plus innovative yarn placements, the Composition Series, by Suzanne Tick, is a layered expression of both natural and man-made materials. Three unique modular styles and one coordinating LVT in a refined melange of color, foster a calming environment that nurtures our ability to find harbor and connect with our inner selves.
Essentialist Collection
Created out of the pursuit of a floorcovering that, at its very essence, embodies beauty, performance and purpose, every detail of the Essentialist Collection is inspired by the natural world to promote a serene atmosphere. With five biophilic patterns, eight coordinating colorways and three surface platforms (modular, broadloom and LVT), this mindful collection is both simplified and inclusive.
Interleave + Mindset by Jhane Barnes
INTERLEAVE NOW AVAILABLE
MINDSET COMING SOON
For Interleave modular carpet and coordinating Mindset LVT, Jhane Barnes transformed gradating stripes into sinusoids—curvatures frequently found in the natural environment. The soothing repetition of these gently winding curves provides a peaceful rhythm and calming effect for any commercial environment.